Wed 27 May 2009
I picked up this watch a while back, but hadn't gotten around to posting a short review on it. GJVB is a small swiss watch company that makes their cases and fits them with Valjoux 7750 Chronograph movements. All their watches use some variation of the 775x series of movements, and they all use the same case with different dial and hand combinations.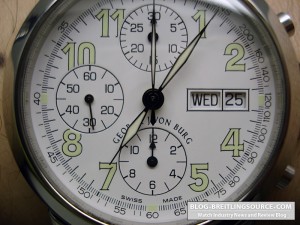 This one is the Sports model with white dial. One of the nicest features of this watch is the fine black out-lined hands, which looks fantastic against the white dial. The case measures a modest (by today's standards) 40mm diameter, but is plenty wide enough for my wrist size and in fact is quite well suited to me.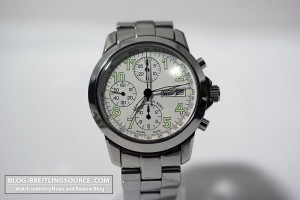 The bracelet is all stainless as well, as I prefer the bracelet over the strap models. It seems like no matter how much I try to get into strapped watches, the bracelet always calls me back. Aside from Panerais and serious solid gold dress watches, I can't get used to any other watches on straps. The fully polished case on the Von Burg goes very well with the watch, giving it some presence, but still a very understated overall appearance.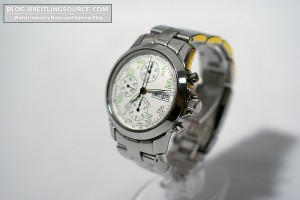 The body, while only 40mm in diameter, is quite long so sits bigger on the wrist than many 40mm watches do. Lume is very strong, with numbers and three central hands all glowing. Day-date is typical Valjoux 7750 configuration, and works correctly. Not much else to say other than at secondary market pricing around $500 for this watch is a fantastic deal. Quite a bit more satisfying than many other Hamilton and other brands of Valjoux 7750 watches for some reason. The quality of the bracelet is quite good. I've always felt that Hamilton lacked in that area a bit.
3 Responses to "George J Von Burg Valjoux 7750 Chronograph"
Ann Says:
June 12th, 2009 at 2:22 am

Nice watch! But I agree that a leather strap would be more suitable for it.

Bruce McGee Says:
November 30th, 2009 at 7:46 pm

I have the Modern series with the black dial
and I have to say that I love this watch. For the price it's well made and has a classic
timeless look

The Breitling Watch Blog » George J Von Burg Chronograph Video Review Says:
January 1st, 2010 at 11:28 am

[…] my recently posted Video Review of my George J Von Burg Sport Chronograph. I reviewed the George J Von Burg here, and now I've posted the video review as well so you can see that. The watch uses the […]
Leave a Reply