Fri 17 Apr 2009
Again, IWC has secured the top ranking of luxury watch brands performed by the LBSI. The index measures the value and equity of luxury brands across North America, using data collected by wealthy American consumers of these products. The information is from actual wealthy consumers, rather than non-consumers of luxury goods that only recognize names like Tag Heuer and Rolex.
The index uses factors such as "quality, social status and self-enhancement" in order to base their results. IWC's blend of uniqueness and exclusivity, superior quality, self-enhancement and status gives them a unique place among consumer's hearts.
This is not a huge surprise to me, but I agree that IWC is among my favourite watch brands and I am set on purchasing another IWC watch and adding to my collection soon!
Not the one I'm getting, but a little eye candy: The IWC Portuguese Tourbillon Mystere.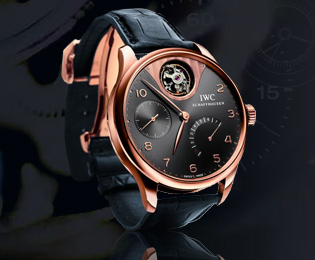 2 Responses to "IWC Acheives the Highest Luxury Brand Status Index Ranking for 2009"
Dave Olson Says:
May 5th, 2009 at 6:41 pm

I'm only curious as we are only into the month of May, how anyone/company can issue a report of any merit and claim it for the entire 2009? IWC has had more than it's share of ups and downs over the decades. I have a beautiful 1960's mint hand wind cal.89. Nothing fancy to it, just tells the time. The big problem with IWC in the US is service. The comment, " it has to go to the factory" is all to often heard. I sent a an older IWC in for service several years ago and that was what I told. Saw my watch 5 months later. Sorry but not good in MHO.

peter Says:
October 1st, 2009 at 12:18 am

As a "wealthy consumer" who grew up with money, there is nothing worse for me than being associated with the types I grew up with, i.e. the privileged wealthy consumers Those who only appreciated the finer things of life have always made me violently ill, the type who really 'relate' to grotesque characters that inhabit 'james bond' film..only the best black caviar, only Bollinger etc etc. It makes me sick and and I grew up with it. If only the wealthy love IWC then i'm selling mine. I would buy a Panerai, however i'm sure they are far too vulgar for anyone from polite society.
Leave a Reply