Fri 20 Feb 2009
In my conitnuing search for good Budget watches, I got my first Glycine watch and it's a very cool watch. I had seen a friends Glycine Airman D24, with the three separate hour hands and decided it was time for me to get a Glycine and see what the fuss is all about. While the Airman is not quite as fancy nor as desirable as the D24, it does have a similar feel with its large flat face and easily readable dial.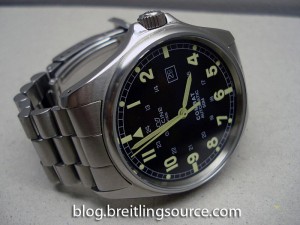 The Glycine Combat 4 is available in four or five different dial lume colors, all with a black dial. This one in particular has the yellow/green numbers and is my favourite. The other options include White, Blue, Red and I believe Orange though I'm not sure. The information online available for Glycine watches in general is very limited. Maybe it's time for a glycinesource.com?? haha.. maybe not.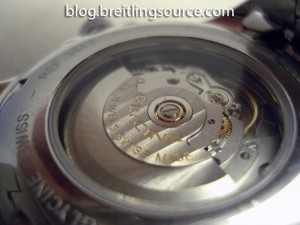 The Combat 4 has a nicely decorated Swiss ETA 2824-2 movement, and of course the entire watch is Swiss Made. It does not have a specification as to whether or not the crystal is Mineral or Sapphire, and the information available online is limited, but I am assuming that it is Mineral, as Glycine does use a lot of mineral crystals.
It is a bit strange seeing a watch that retails north of $800 with a Mineral Crystal (I am assuming), but it is a very nice watch. The dial is a very large one, with a case diameter of 43mm. This watch wears large for it's size. The bracelet is also a very nice one. It feels really loose when you move it around, but it sits and molds to your wrist very nicely. When I strap this watch on, I want to look at it.. the dial just jumps out at me.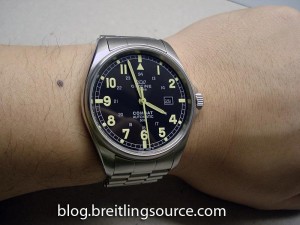 There it is on my 6 3/4″ wrists, and it really fills it out. The lume on this watch is one of the best I've seen. It starts glowing immediately and holds it longer than most watches I have. This guy is water resistant to 50M, and does not have a screwdown crown. A very simple watch, but it has that simple, but not too simple style to it with a touch of Pilot watch and a touch of sport watch. It looks simple, but it stands out, and looks great.
I think I need to get another Glycine now!
2 Responses to "Glycine Combat 4 Watch Review"
Vertigo Says:
February 23rd, 2009 at 2:41 am

Love Glycine. I have a Incusore, runs the ETA 2824-2 as well. The lume is great, mine glows blue!

Ruag Says:
February 28th, 2009 at 10:10 am

I have a Combat Sub, and in few days I'll have this Combat 4 (yellow, of course). The Crystal is Mineral, Combat 4 is a discontinued model with mineral. You can find it without bracelet for $350.

Great Blog.
Leave a Reply