Tue 17 Feb 2009
Finally, after years of waiting, us Breitling aficionados can finally enjoy the launch of the Breitling in-house movement, the B01. The Breitling B01 – An Exceptional Motor, uses a column wheel, a vertical trigger mechanism and has a power reserve of over 70 hours.
A couple other features of note on the movement are an auto-centering feature for the reset hammers – a much needed feature. Also are an exclusive indexing regulator system that allows you to adjust the the timing of the movement. Very cool features!
From the Breitling Website:
Breitling crowns its 125 years of passion for chronographs with the launch of its own high-performance movement. Breitling is marking an important date in its history by unveiling Caliber B01, its first chronograph "motor" designed and built entirely in-house. It is a logical evolution for a brand that has played a major role in developing the wrist chronograph, and is counted among the leading makers of this complication. It is a perfectly consistent choice for one of the last independent Swiss watchmakers, which is thereby ensuring its freedom to maneuver and loyalty to its own criteria for excellence.
Through 125 years and five generations, Breitling has tied its name closely to the development of aviation, sports, technology, sciences and industry – all of these being areas that require reliable and accurate measuring instruments. With the B01, the company is more than ever confirming its calling to accomplish challenging feats, and beginning a new chapter in a history already replete with great moments in the air, on land and beneath the seas.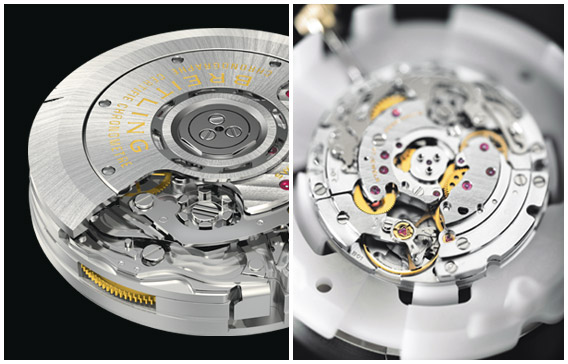 One Response to "The In-House Breitling Caliber B01"
Ron Says:
October 7th, 2009 at 11:04 pm

The creation of it's first in house movement is a big step forward for Breitling.
Leave a Reply