Wed 4 Feb 2009
Next up in my search for the ultimate sub-$500 watch is a Wilson Watch Works Navi, which I briefly talked about the other day.
The Wilson Watch Works (WWW) stuff is not very known, especially outside of ebay, but very impressive. I stumbled upon Wilson Watch Works when I was browsing through ebay at various watches using the Swiss Unitas 6497/6498 movements. These are hand made peices from the US, made from German crafted cases and dials, with Swiss luminova. Front crystals are all Sapphire, double AR coated, with rear exhibition crystal made from K1 Mineral.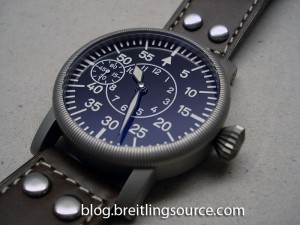 The model I picked up is the Navigator, or that's what I call it at least because of the navigator dial, as Chris at WWW does not have model names yet. Dials and cases are totally sterile. This one is 42mm, and bead blasted stainless steel. They are all available with any combination of cases, dials or movements. You can choose to have a seagull movement installed if you prefer, and will save you $150 or so.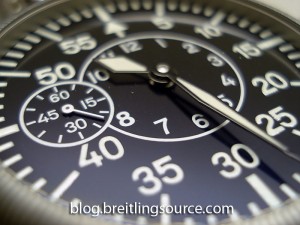 As you can see, the semi-gloss black navigator dial is very nicely crafted, with expertly applied Swiss luminova on the all the outer markers and outer arabics. Hour and minute hands are also both illuimated.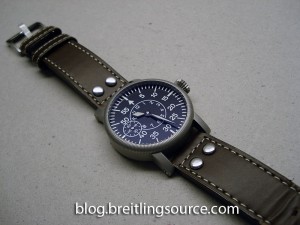 I put mine on a German Pilot strap with rivets in a dark chocolate brown, and I think it looks fanastic. Chris offers them on either vintage or bund straps, but I am partial to the double rivet pilot strap so I sourced mine elsewhere.
The crown is very nicely crafted of solid stainless and finely bead blasted as well. The movement is nice and slack-free, unlike those chinese seagull unitas copies. The cases are manufactured by a company in Germany that also manufactures cases for Tourby watches and Lum-Tec, which sell nearly identical watches for almost twice the price, which is probably fair market value. Wilson Watch Works doesn't have the same exclusive dial and case designs, but the quality is the same, and thus you save money.
This case uses lug screws, not spring bars, which is kind of nice. The screw threads are very strong and well threaded, and not likely to strip. They are polished, which gives a nice contrast to the blasted case.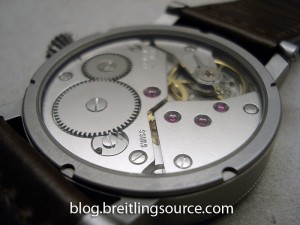 Exhibition caseback showing the swiss made eta unitas 6497 movement, undecorated, but beating strong. Did not really check accuracy, but it was within seconds of my Breitlings that I synched it to over the course of a day. Of course the Unitas doesn't have a date complication, but most days I can do without it – doesn't stop me from looking for it though.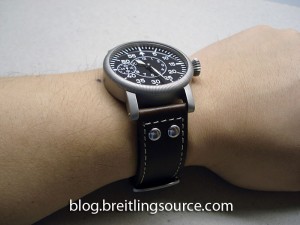 On my wrist, the 42mm case is fanastic. Probably the perfect size, though the spikey diamond crown digs into my wrist sometimes. But I love the watch and love the case. Everything about it screams quality… and at a price of $459, it certainly is worth the price and very close to the perfect $500 watch for me. I'd been eyeing the Tourby peices as well, but at $800+, they would really have to offer me something that WWW doesn't. And until then, I'll stick to my WWW Navigator.
Take a look at his ebay store here: http://shop.ebay.ca/merchant/wilsonwatchworks
16 Responses to "Wilson Watch Works Navigator Review"
Leave a Reply