Mon 19 Jan 2009
The Vulcain Cricket was introduced in 1947 as the worlds first mechanical wristwatch with alarm, and today continues their tradition of creating reliable watches with their unique alarm complication. Their current marketing campaign includes a lot of advertising in which they claim "Worn by US Presidents" in the ads. A couple notable presidents to wear the Vulcain Cricket are Richard Nixon (1969–1974) and Dwight Eisenhower (1953-1961). Since they are relaunching their brand, Barack Obama will be the first present in many years to receive a Vulcain Cricket. The watch he will be receiving is the Anniversary Heart. The first president to receive a Vulcain Cricket was Harry Truman.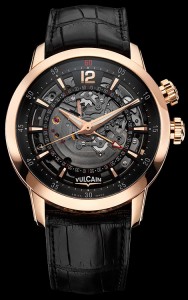 The new Vulcain Crickets have a very forward and modern design, utilizing a lot of open heart techniques on the dial, exposting the rather beautiful Vulcain movement. The new stuff out of Vulcain does involve a lot of Limited Edition watches with fancy packaging to entice the upper market that the watch is now targetted to.
The Rose Gold Anniversary Heart is a beautiful watch, and I'd love to have one myself, but estimated cost will top $20K in Rose Gold. They do have some more affordable models, however.
In addition to all the president buzz, Vulcain is also releasing its Self-Winding Caliber V21 at L'Heure AscH in Geneve between Jan 21st and Feb 7th, 2009. This will be Vulcain's first self-winding movement, and will likely increase the amount of interest in Vulcain watches for the newer generation. The first watch to use this new movement is the Cricket GMT X-Treme in Titanium and Pink 18K Gold. Almost sounds like these guys are getting their naming inspiration from Zenith!
See the Invitation PDF.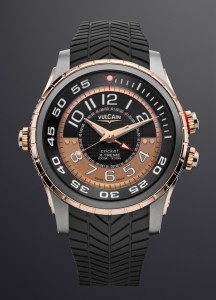 Leave a Reply