Sat 29 Nov 2008
It seems like these days unless you spend upwards of $20,000 on a watch, you are bound to see someone else wearing the exact same one at some point. My recent cruise to the Mediterranean revealed to me that watches in the sub-0$10,000 range, and to a lesser extend the sub-$20,000 are commonly seen. It is getting harder and harder to have a watch that is truly unique, at least in some small way. On this cruise I saw a fellow with a Breitling Motors T in black, exactly the same as mine, and also saw a fellow with a Breitling Chronomat Evolution, same as mine. I haven't even started to count the number of Rolexes that I saw!
However, what if your favourite watch company started offering the ability to customize your watches in a way that would make your watch a lot more personal to you? Would that be something that you spend your money on?
Vacheron Constantin Quai de l'Ile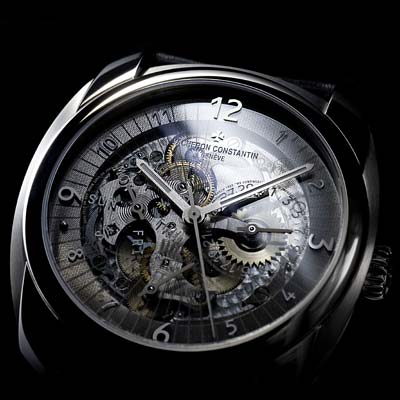 Vacheron Constantin thinks it is. They have released a new watch called the Quai de l'Ile, a totally customizable watch offering a total of nearly 400 combinations of metals and dials. It also has high-security features designed by Roger Pfund to make fakes a lot harder to make.
The custom watch takes approximately 3 months to make.
Not a New Idea
The custom watch is not a new idea, but Vacheron Constantin has definitely taken this to the next level. There have been many manufactures offering custom watches such as the Breitling for Bentley Mulliner Tourbillon, and a few other minor watch manufacturers that concentrate on the custom aspect. Then there are guys like Bill Yao that specialize in customizing existing Seiko watches, with dial and hand replacements costing a couple hundred sometimes. Quite the sum when you consider the initial cost of the watch.
I believe the trend of customized timepieces will increase over the years as it is a relatively untouched market with most of the players being very small shops with very little marketing. Getting a few major Swiss players into this market with an affordable sub-$10,000 product will really cause a stir I think.
One of the custom watchmakers of watches I know of is Allen Elishewitz, who is a custom knifemaker by trade, and then branched out to make custom pens and watches as well. See Allen's stuff here: http://www.elishewitzknives.com/Watches.asp
3 Responses to "Custom Personalized Watches the Next Big Thing?"
Niels Says:
December 8th, 2008 at 6:27 pm

I agree on the customization… I can easily see a much better level of customization for lower cost watches. It doesn't cost a watch company very much to make a much larger variety of bezel and dial colors! If apple can offer an $49 iPod in 12 anodized aluminum colors, I don't see why I can't get the dial and bezel on any $300 watch I see fit to spend my money on.

You wouldn't believe how many companies offer just one color – black – for their diving watches. Not even white, wich is pretty conservative, nobody is asking them to keep hot pink in stock.

I can't get an Omega Seamaster with a white dial if I want a new one. I want to be able to call an Omega rep and say "send a titanium Seamaster with white dial to my local dealer, kthanks" They cost enough to offer that small service.

The same goes for a Breitling Callisto, where I like the old combination of steel, gold riders and that great prussian blue dial with all roman numerals. Can't get it from Breitling, so they loose my business to the used market, when I would much rather go to a Jeweler and buy a new one.

Breitling really doesn't use that many color combinations, it would cost them very little to keep them available for series once they had them.

On the high end, I could see someone show up with a customized, watch specific, simplified 3D tool, where a customer can sit down and get down to case design, rather than just metal choices. Sure, that might not appeal to a watchmaker who thinks himself the best designer, but it will appeal to one that's mainly interested in providing whatever service someone will fork over a lot of cash for.

The Breitling Source Says:
December 8th, 2008 at 6:42 pm

Yep.. so many companies out there, one VERY famous one, Rolex, only often provide ONE dial color for certain watches. Watches like the Deepsea and Milgauss are only availalbe in one dial color.. only recently did Rolex release the Submariner in a blue dial, and they have a Certi Sapphire edition but that has all sorts of gemstones on it.

Breitling and Omega actually do provide a fairly decent selection of dial colors for their watches compared to some brands.

James Says:
January 23rd, 2014 at 6:04 am

I agree with you @The Breitling Source, that Rolex, only often provide ONE dial color for certain watches.
Leave a Reply