Mon 13 Aug 2007
When we think of large watches.. some of the names that come to mind are Breitling, Panerai, Zenith, maybe Bell & Ross with the BR01 instrument watches. Is the big watch trend here to stay? Sure looks like it to me… watches are only getting bigger and bigger, with Omega's 49.2mm Railmaster leading the pack (i think).
Other Factors that Affect Perceived Size
Keep in mind that sometimes bigger isn't always better, and its not always about diameter. Wrist presence is a combination things including Dial Color, Case Thickness and Bezel Thickness. Take for instance.. a Breitling Super Avenger.. perhaps one of the most famous and popular Big Watches out there currently. Two identical Super Avengers, one with a white dial and one with a black dial when worn on the wrist, have a completely different presence. The white on my small 6.75″ wrist looks overwhelmingly big, while the black suits me.
This can happen with so many different watches out there. Recently I purchsed a Breitling for Bentley Motors with a white dial. This watch is actually slightly larger than the Super Avenger (48.7mm over the SA's 48.4mm) but the watch seems much less obtrusive on the wrist. This is due to the thickness of the watch and the presence of the bezel. The sunken dial gives it more depth and the height of the case makes the watch stick out a mile from the wrist.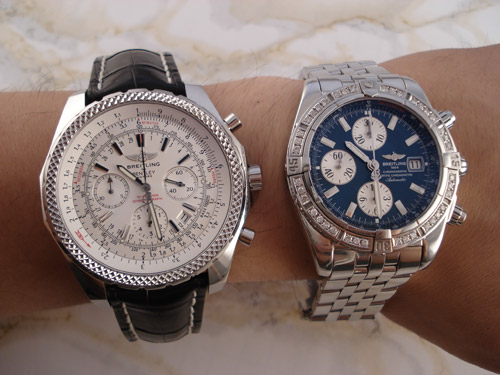 Above is a Bentley 48.7mm and a Chronomat 44mm
44mm, 46mm or 48mm? Which One is Best?
Like anything out there, its personal Preference. One thing I'd like to say however is that you shouldn't base it on diameter only. There are many watches out there like the Chrono Avenger, the SuperOcean Steelfish and The Chronomat Evolution that are all 44mm watches, but each of them wears differently. And remember, just because the black face seems to look good, doesn't mean the white face will too.
Panerai's and Breitlings and Omegas are all available in many different sizes, so don't just go with the bigger is better philosphy. For example, I've always liked the Omega Seamaster watch, and having seen the Planet Ocean, I wanted one. I figured that it would look great at ~45mm, since other 45mm watches looked good on me and so did the 42mm Seamaster. I was wrong!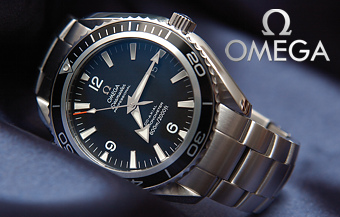 The Planet Ocean has a very long Lug-to-lug length, which gives it a very elongated profile on my wrist, making the endlinks ont he bracelet stick out oddly from my wrist. The 42mm Planet Ocean suits better, however still has that elogated look that I'm not so fond of.. so for me its the Chunky Seamaster Chrono.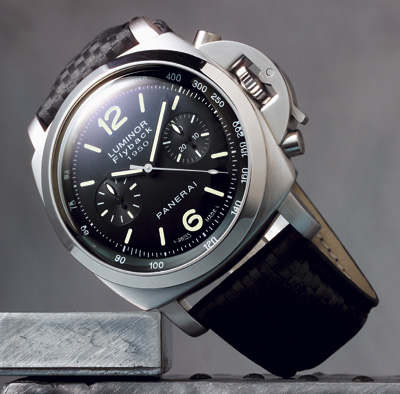 Panerai's at 44mm wear very large. You will find that a 44mm Luminor Marina wears bigger than a 44mm Chronomat Evo. This is partly because of the thin bezel and partly because of the somewhat square face, giving it a bit more wrist presence. The Crown protector also adds a bit of width to the overall look of the case. The 45mm Radiomir's are even bigger looking without the crown protectors.. but I am not a fan of the wire lugs.
Your best bet if you plan to buy online is to go to a dealer and try on the difference sizes and brands of watches, taking note of how they feel and look on your wrist.. and remember switching between a bracelet and a strap changes the presence of a watch as well. A bracelet will make a watch wear slightly bigger as well quite often… and will also make a heavy watch feel heavier.. obviously.
Happy Big Watch Hunting!
2 Responses to "The Large Watch Trend – How Big is Too Big?"
NP Says:
February 22nd, 2010 at 6:56 am

I'm thinking that since the bank/trader crash and subsequent extremely public shaming, these upscale pimp watches are probably on the way out. It's really not the climate for "statement" watches, which increasingly look gauche as hell to my eye. YMMV. If one likes a watch as timeless in design as the PO is with the '60s influenced dial, stick with the 42 at most, and avoid the 45. You'll be thanking yourself, I suspect.

The Orient CFD0E001W: A Timeless Timepiece Says:
January 13th, 2011 at 12:16 pm

[…] we've seen over-sized watches crowding the market, some with case diameters that exceed 50 mm. For a watch to maintain its […]
Leave a Reply