Wed 21 Feb 2007
One question that always gets asked a lot is "When was my Breitling made?". Well now with the newer Breitlings dated to around 2003-2004, they all have the manufacture week stamped between the lugs, and metal bracelets have had manufacture dates stamped on them since the mid-90's. Check out some of that info here:
http://www.breitlingsource.com/articles_dating.shtml
 If your watch has leather, and is older than 2004, then you will have to guess based on the features. Looking up your model on the model list at the Breitling Source is a good idea. Asking on the forums is never a bad idea either!
Here is an example of the date appearing between the lugs of a SuperOcean Steelfish: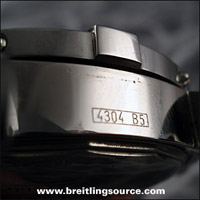 Until next time! Good watch hoarding!
Leave a Reply