Sun 4 Dec 2011
I've had this guy for a while, but never really wrote up a review on it. I did post a video review of is a ways back, but never got around to posting the real deal. I shot some photos of it with my dSLR and just ran into them while sorting my photographs this morning and figured this would make a nice Sunday Morning post.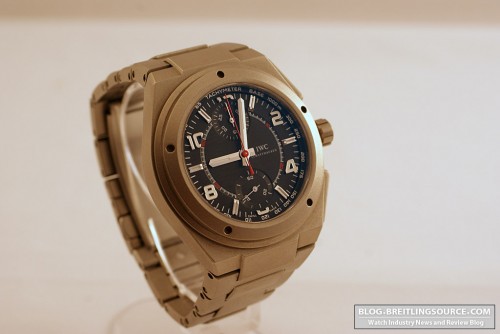 The color is a bit off on these first two photos, and isn't a correct representation of the true color like the last two photos are. I generally do prefer the Stainless models but the Titanium is quite slick with its darker color and its not every watch you see that's available in both Titanium and Stainless so sometimes its good to get something different.
The case measures a healthy 42.5mm, and has non-standard lugs, so only bracelets and straps designed for the Ingenieur specificially will fit on it. The thickness is 14.5mm, so it does have good wrist presence. The watch wears quite large for its measurements in my opinion, and feels similar in size to a Breitling Chronomat 44.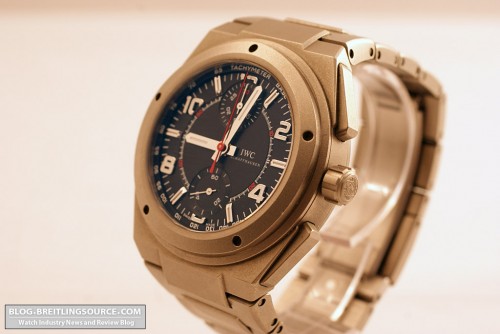 Another shot of the pusher side of this watch shows the unique pushers which are hinged on one side so only push in near the middle. A nice subtle touch. The watch also features an IWC Calibre 79350 movement, which is a modified ETA (Valjoux) 7750 movement, with the seconds moved to the 6 o'clock subdial and the date removed. The Chronograph measures seconds and minutes only. This watch keeps excellent time, within 1 second per day and is anti-magnetic as well.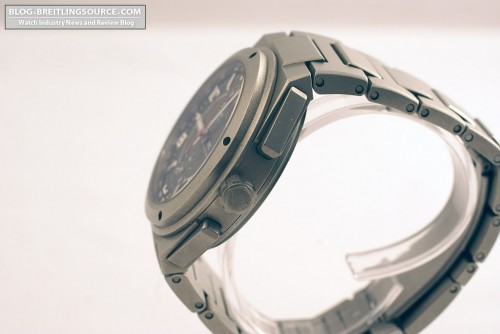 From the size you can see IWC's bracelet removal system for the Ingenieur, which allows the bracelet to be removed with two toothpicks if you wanted to. Very nice system. The AR coated sapphire crystal is flat, and provides fantastic visibility in bright light. Lume, on the other hand, is nothing to write home about.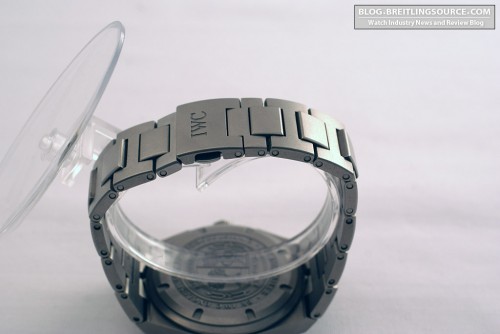 Clasp is a fold-over style with hidden button release on the side. A very nicely articulated titanium bracelet, very smooth and comfortable – so comfortable that I would say this is possibly the most comfortable bracelet I've ever worn and I've worn a lot. In general this watch is an absolute joy to wear and put on. While lighter because of the titanium, it is not as light as many titanium watches such as the Breitling Aerospace. This one is a keeper!