Sun 15 Feb 2009
When we think of affordable Swiss Made automatic chronographs, one name that keeps coming up over and over again is Hamilton. With what seems like dozens of Valjoux 7750 Chronographs to choose from, they have one for everyone's budget. The Hamilton X-Wind is one of the higher end Chronos that they carry, and of course uses the workhorse ETA Valjoux 7750 movement with a exhibition caseback to view the inner workings of the watch.
Ever since I saw the X-Wind I wanted to buy one, and when I tried one on in the Caribbean I really wanted it. I finally got a chance to get one at a decent price and here it is up for review. Big beefy 44mm peice.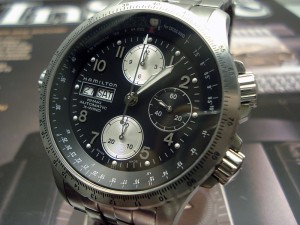 The watch has two crowns in addition to a bi-directional rotating bezel that allows you to calculate complicated cross winds and things that pilots might need to calculate. Beautiful black dial with silver subdials and guiloche patterning on the subs.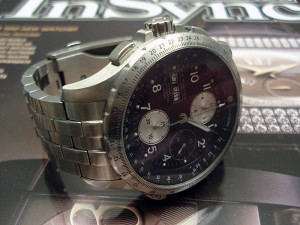 As you can see, the watch has a left crown and pushers, with the day-date complications on the left side as well. This takes a bit of getting used to initally, but its not that hard to do.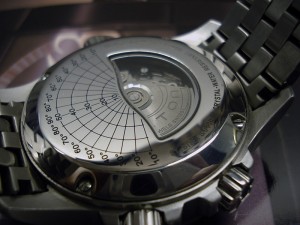 Exhibition caseback has a uniquely shaped crystal, and a degree chart of some sort also for calculating complex pilot things that us layfolk will never need, but its cool to have! This X-Wind is on a bracelet, which I like, but felt that the rivet strap looked better on my wrist. Possibly due to the watch looking larger. I believe the rear crystal may be Mineral as the marking only states Sapphire Crystal in the singular. Either way, Hamilton's watches are still a great bang for buck.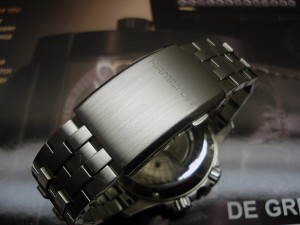 Nice machined press-lock clasp. The links are pinned, not screwed, but the clasp is a nice one. I've always liked the way the Hamilton clasps are made, and it just finished off an already very nice watch.