Hexa Watches is another boutique watch company with its roots founded in the online watch forums. I do like the marketing and style that Hexa brings to the table, however, and feel like it brings something a bit more unique and out of the ordinary than your run of the mill boutique Dive watch.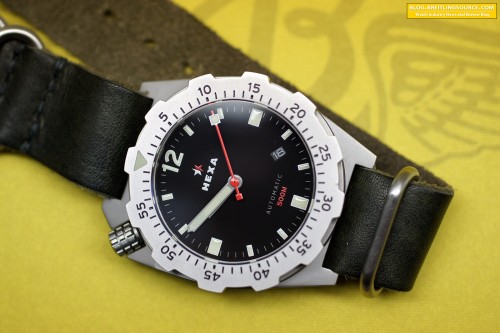 Here's the K500, with its beautiful tool-like bead-blasted 44mm stainless steel case. Its a meticulously crafted piece of kit, and very well engineered. The flat sapphire crystal is AR coated in the inside and 3mm thick. It almost disappears in the right light. I've got the Hexa K500 mounted on a DaLuca Chromexcel NATO strap, and I think it looks fantastic!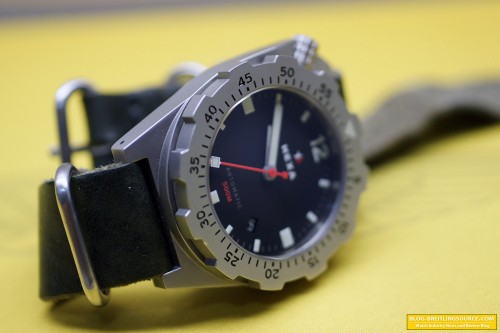 The unidirectional dive bezel has chunky sprocket-like knobs around it and has 60 clicks. The only complaint I would have about the bezel is that it moves accidentally all the time… while I'm not a diver, I do like keeping my bezels centered because I'm just OCD like that so when it moves a few clicks by accident almost every time I wear it It kind bugs me.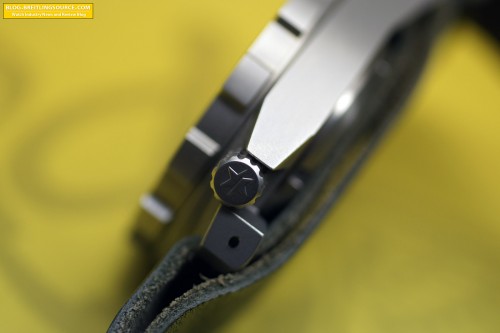 The screw-down crown is uniquely placed at the 10:30 position and looks pretty cool, but because it has very chunky crown guards around it its somewhat difficult to use. However, you're not often changing the time, so its not a huge deal. The sharp, angular lines that surround it make it look really cool and more than worth the trouble.
I couldn't get a shot of the whole back because the NATO strap covered most of it, and it doesn't move easily without removing the pins because they're very tight to the watch case. I think certain thicker watch straps might not fit on the Hexa K500 because of this. The movement within this awesome dive watch is a Sii NE15/Seiko 6R15 Automatic Movement which features handwinding and hacking ability. They've also adjusted it to 5 positions in-house for maximum accuracy. All Hexa K500's are also assembled by hand in the USA.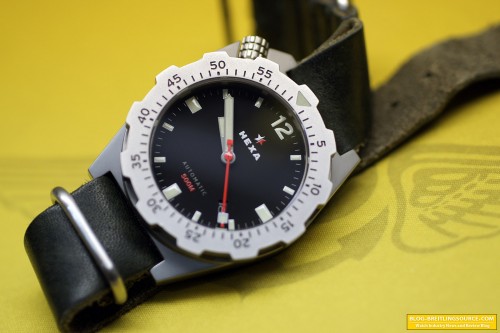 Overall this is an incredible watch, and at $625US for the strap model, its not too badly priced. While I won't say this is the bargain of the century, its affordable but offers a very unique and identifiable design that is distinctly Hexa. Throw in the kick-ass Lume by Lum-Tec and the very reliable Seiko 6R15 automatic movement in a bomb-proof bead-blasted case, you have one of the coolest looking military styled dive watches on the market.