Well, I finally got my first Bell & Ross. After hemming and hawing over them, at first liking the BR01, then finding it too big, I picked me up a BR03 and just got it today. Its significantly smaller than the BR01 on the wrist, and feels just about right. I've been leaning more towards the 42-44mm size of watches in the last year or so, and the BR03 fits just right. The square case and wide, flared strap make the watch fit a bit larger than the 42mm might suggest.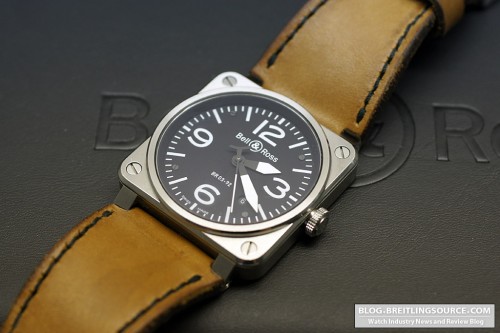 Shot these photos with my new Sony Alpha 500 camera, which has been doing an amazing job of photos. Here's the BR03-92 mounted on a Gunny strap, which was included from the fellow I picked up the watch from. Bell and Ross watches are quite interesting as they are front mounted, and don't have a removable caseback. ECW is another company that makes watches this way.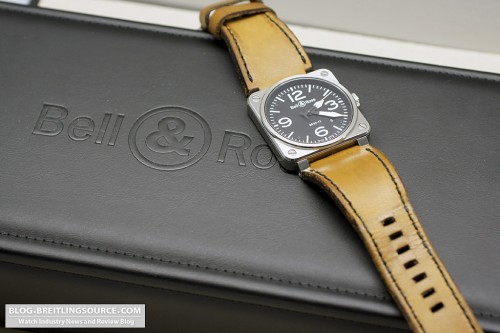 Here's a shot of the BR03 laying on the box, which is very well made. The watch is sold with the Factory Rubber strap and a Nylon and Velcro strap. The "92" in the BR03 model number signifies the movement/complication level of the watch. In this case it is a basic model with the date at 4:30. I've always felt that B&R does a good job of making the date discreet but not awkward on these models.
Combined with the extremely legible dial and relatively slim form factor and the watch makes a great daily wearer.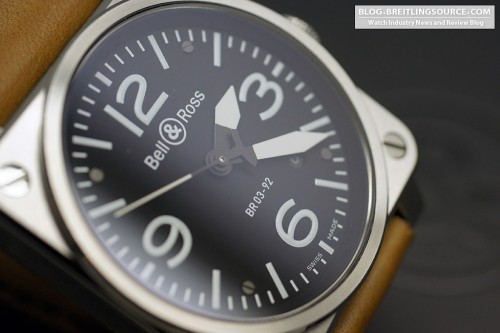 A Close-up of the matte dial shows the four mounting screws on the dial. Lumed portions of the dial include the arabic numerals, hands and hour indices. The B&R lume initially was not very good when I charged it with a flashlight. Oddly, I happened to step outside for about 30 seconds and when I came in, the watch was glowing much more brightly. Perhaps the natural light charged it more efficiently than a superbright LED flashlight shining directly into it? Either way, the Lume has a nice blue hue to it.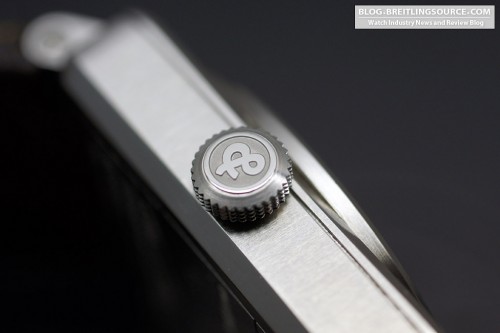 Very nice signed crown. Surprising to me is that its not screwdown. You can also tell from this photo that the case is very nicely finished. Bell & Ross did a fabulous job of finishing the case and it looks spectacular in person. The quality is apparent immediately.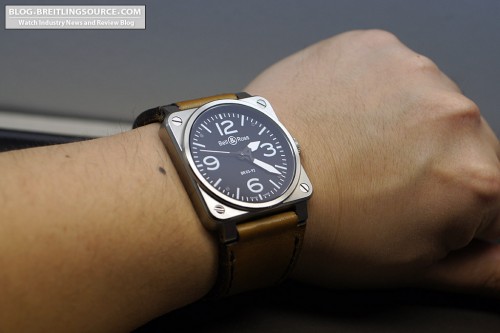 And finally, the wristshot. There she is, mounted on my 6.75″ wrist in all her glory. Fitted to a beautiful gunny strap, the BR 03-92 just looks outstanding. To be honest, I like it better than I thought I would and I think I will be keeping this one for a long time.
Specs:
Movement: ETA 2892 Automatic
Case: Stainless Steel
Case Size: 42mm
Dial: Black Dial
Strap: Rubber and Nylon