Sat 15 Sep 2007
For those of you well-versed in watch movements this may not be anything new for you, but to many of you guys who aren't that familiar, this is a handy primer.
Most of us that buy and collect watches have heard of the ETA Valjoux 7750 Movement. The movement was designed in 1974 and in it's present day format is a 25 Jewel, 28,800 vph chronograph. More info on the movement itself can be found on Timezone.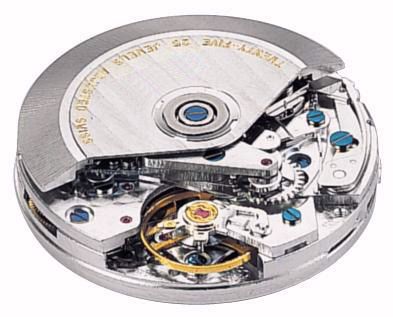 The Valjoux is seemingly everywhere. It seems like nearly every single Automatic Chronograph watch out there not using an in-house movement has a Valjoux 7750 in it. The Valjoux 7750 is by far the most common swiss made chronograph movement in production, with the ETA 2894-2 in second with a 37 Jewel movement. The ETA 2894-2 differs in that it uses a base 2892-2 with a chronograph module attached. The Valjoux 7750 is a purebred Chronograph.
The interesting thing about the Valjoux 7750 movement is that watches using the base movement can be found as low as $1000 to as high as $10,000, if not higher, depending on the level of modification and *cough* marketing. I'm going briefly go over and describe several of the watches on the market that use this movement, throughout the pricerange:

Eterna Airforce
MSRP: $1650 Online: $800 approx.
The Eterna's represent some of the best deals in the Swiss watch industry, with their watches up there in quality with Tag Heuer. They used to be quite the force in the watch industry, pioneering many watchmaking firsts, but now have slowed down. They also produce watches exclusively for Porsche Design. Movements are largely stock with decorated rotors.


Hamilton X-Wind
MSRP: $1050 Online: $900 approx.
Hamilton is an American brand that produces swiss made watches, with a focus on value and nice looking peices quite often with exhibition backs. Movements are stock Valjoux 7750's with little modification, mostly decoration. The X-Wind is one of their nicest designs in my opinion.


Oris TT1 Chronograph
MSRP: $2375 Online: $1200 approx.
I personally am not a fan of most Oris designs, but they make a nice watch. The TT1 is popular and a good performer, and Oris does some modifications to their movements to improve performance.


Tag Heuer Aquaracer Automatic Chronograph
MSRP: $2300 Online: $1800 approx.
That uses the Caliber 16 in this model, and for double the price of the Hamilton X-Wind you get a Certified Chronometre movement. The Aquaracer is a nice watch with a substantially upgraded movement.


Fortis B-42 Pilot Professional Chronograph
MSRP: $2995 Online: $1900 approx.
Fortis does minimal modifications to the movement, and it is not a certified chronometre. Their watches are nice and offer a good deal in the lower end of the spectrum but their higher end watches do not give much bang for buck. In this price range the watch should be a Chronometre.


Breitling Chrono SuperOcean
MSRP: $3500 Online: $2600 approx.
Breitling's entry level Valjoux 7750 Chronometer Movement using the Breitling Caliber 13. This caliber is used in many of their watches including the Super Avenger and the next one in this list. This is a COSC certified Chronometre, with substantial modification, but too bad Breitling doesn't do many exhibition backs to show it off!


Breitling Chronomat Evolution
MSRP: $5100 Online: $3600 approx.
This is one of the higher end models using the Caliber 13. There is also the Breitling for Bentley GT that uses a similar 7750 based movement (13B). As you can see the Online pricing is about $1000 more, but all the extra goes into the case and bracelet, not the movement!


IWC Portugese
MSRP: $6700 (up to $14,000 or so in gold) Online: $5100 approx.
This is one of the more expensive watches out there with the Valjoux 7750 based movement, especially in gold. With a highly modified Valjoux 7750 movement called the Calibre 79350, it is probably the highest quality movement of this lot, but without the COSC Certification. IWC rarely certifies their watches.
So that is a brief roundup of some of the watches available in the range with the Valjoux 7750 base movement. Hope this article was informative for you guys!
EDITED TO ADD (06/07/2008):
An email from a reader that is very interesting:
Hi,
I just looked at your useful info on the venerable workhorse of chronographs the 7750. I thought you might be amused to know the Hublot Big Bang also seems to use this movement and has to be the most expensive watch using it. So far as I could tell from the Hublot website and from handling a Hublot in their local dealer the movement is not extensively modified, thought the rotor is unique to Hublot….
The cheapest 7750 movement watches are some Chinese made chronographs, not all of these are knock offs, some are labelled with their own labels and some are nice watches.
I wrote an article on "How Swiss is Swiss" as an introduction to watch movement sources…. Here is the link in case you're interested: http://reviews.ebay.com/How-Swiss-is-Swiss-Made_W0QQugidZ10000000001042431
At least Switzerland has a legal definition of Swiss Made. germany doesn't with the result that there are now a bunch of Chinese made watches out there masquerading as Made in Germany, "Junkers" is an example…. I haven't checked if the brand name is owned by a German company but if so I expect that's the limit of Germaness about their watches. Don't get me wrong, they are pukka mechanical watches and anything that keeps that industry going is a good thing in my book but to any one who knows the movements are so patently made in China it's almost funny.
Cheers
Julian

33 Responses to "The Ubiquitous Valjoux 7750 Movement"
Leave a Reply