Tue 30 Dec 2008
Sure Do. Well, compared to Breitlings at least. I've heard some people say that Breitlings wear small for their case size because their bezels are smaller than the cases. But the Panerai Luminor with the Device Protecting the Crown definately has a bit more presence to it. I would say it wears somewhere between a Chronomat Evo or Steelfish and the big Breitling for Bentley Motors. It probably has a 45-46mm size presence for a 44mm watch.
Here are some pics of a couple of Panny's with a couple of Breitlings so you can get an idea for yourself!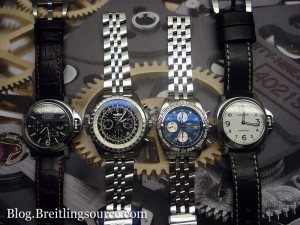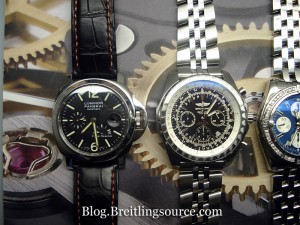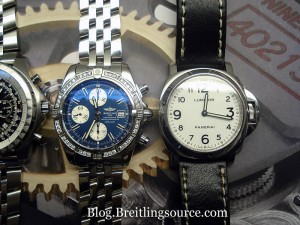 2 Responses to "Do Panerai's Wear Bigger Than Breitling?"
MarkJnK Says:
January 1st, 2009 at 5:37 pm

I agree. My 111i wears almost as large as my B for B Motors, especially when the 111i is on bracelet. Two very different watches, yet I love them both.

RYTLING Says:
January 15th, 2009 at 11:05 am

I would love to see a 47mm Panerai next to a full ling, like a Super Avenger or a B for B…just to get an idea.

I know Panerai doesn't make too many of them in that size, but know the Slytech was 47mm and 2008's SE 1950 Luminor Submersible Pangea is a 47mm.

Can anyone post a 47mm Panerai next to a Breitling? I would like to see the difference.

Nice watches, by the way!
Leave a Reply